Keep the Rubber Side Down
Keep the rubber side down - it's a nice way for people to tell us to be safe, have fun, and good luck. But do we ever pay much attention to what is helping us literally "keep" the rubber side down? The tire is one of the biggest elements to keeping it upright out on the trails, but picking a tire can be exhausting not to mention confusing. Between TPI, rubber compound and tread design, it seems like there are at least a million options to rack your brain over. And what the heck is TPI and is it contagious?!
No. TPI is not contagious...but...it is very important. TPI stands for "threads per inch" this is the thread under the rubber that gives the tire its structure. Generally speaking, a tire with a higher thread per inch count will tend to be lighter and more supple but more prone to damage. A tire with a lower TPI count will typically be heavier and more durable. A relevant example is a high-end plus-size mountain bike tire. Higher-end plus-size tires have higher TPI to keep the weight down and make for a more supple ride.

Every tire company has a few unique compounds. Schwalbe has Addix compounds. Maxxis with Maxx Gripp or Maxx Terra compounds to name just a few of the many options that exist. Picking a reliable rubber makes a big difference on a ride. A softer rubber compound will increase a rider's traction on the trail. However, the trade-off with having a softer compound means your tire will wear faster. The best way to balance this would be to put a tire with a softer rubber compound on the front to increase the traction and harder compound in the back to decrease rolling resistance and mitigate wear on the tire.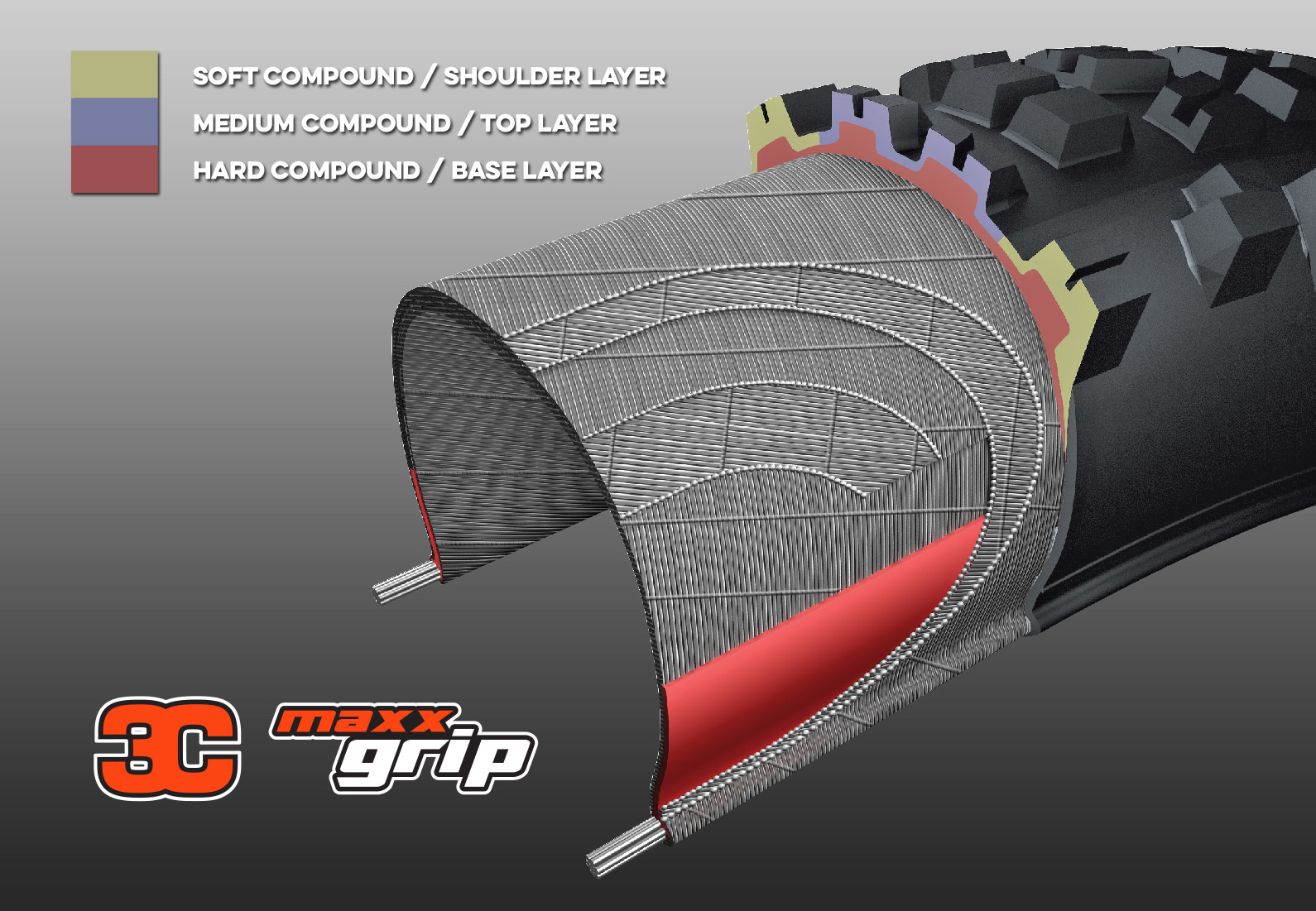 Now for the most noticeable and arguably the most material topic. Tread designs. The terrain you ride most often, along with your riding style will be a big determinant as to what tread design works best for you. Over time, every rider has developed or will develop their preferred pattern. If you haven't discovered your favorite tread design, there are a couple of general things to note. Bigger the knobs are better for grip. Smaller knobs are better for speed. For example, a gravity guru that spends most the day ripping shuttle laps would go for a wider tire with a larger knobbed tread pattern for increased traction and control. A masochistic XC machine who would rather spend the day cranking out miles will likely lean towards a narrower tire with a less aggressive tread pattern, trading traction for less resistance and greater rolling speed. An everyday trail rider can achieve a balance of traction and faster rolling speed by coupling couple a wider tire with a knobby tread pattern on the front and a tire with a less aggressive tread pattern in the rear.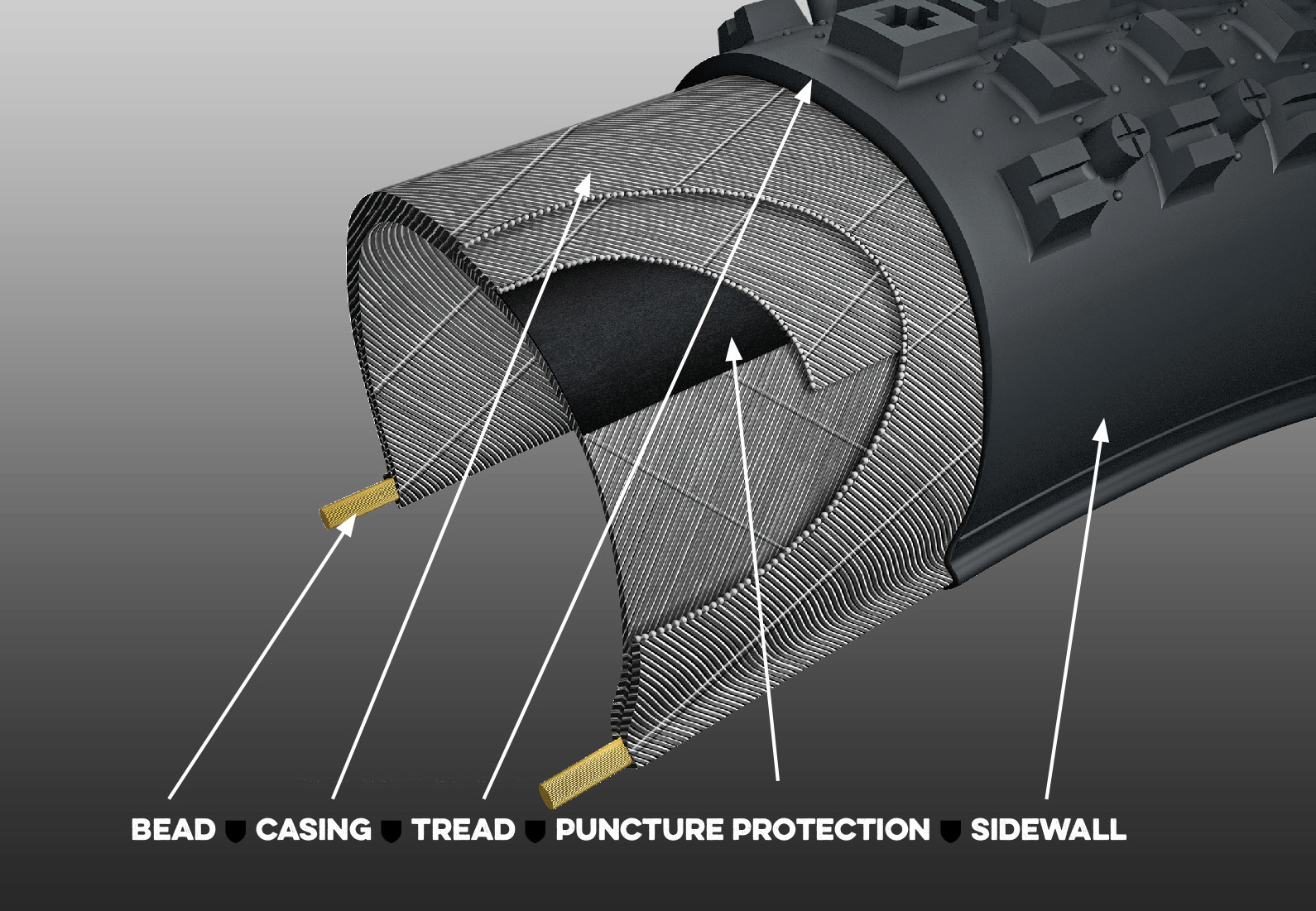 Having the correct tread for the terrain you ride most often is equally important. Take for example the local trails here in Boise. The dirt here is made up of decomposed granite, which in the early season the weather is cooler allowing it to retain some moisture. During these conditions, a rider might consider running a lower profile tread pattern to help the tires roll faster over the tacky dirt. In the latter days of the riding season, hotter temperatures dry out the dirt. Smaller less aggressive tread designs become difficult to ride from the loss of traction, making cornering at speed treacherous. Throwing on some meatier tires for those drier conditions will allow you to combat the loose dry dirt more effectively.
Hopefully, this gross oversimplification of tire technology has helped at least a little bit, but if you have any questions please come down to the shop or give us a call.