Mach 429 Trail
The greatest trail bikes do everything well, no matter what or where you ride.
The goal when designing the Mach 429 Trail was to create a new category of trail bike – one that takes advantage of the best features of 29 and yet maintains the performance characteristics that make you forget about wheelsize and, instead, translate to the "best-ride-ever," every time you ride.
The result? A bike with the incredible pedaling efficiency and small bump compliance of the dw-link® design, a slack front end and a short back end that is fast, flickable, energy efficient, with unparalleled descending capabilities in the trail bike category.
To complement this new 29er formula, you'll find Boost™ 148 spacing, our own hollow core, internal, high compression carbon molding and the obsessive detailing you expect from Pivot. Effortless trail bike handling, incredible power transfer and precise cornering are all yours, without compromise, in the perfectly balanced chassis of the Mach 429 Trail. It is the perfect choice for your next ride.
Pivot's Mid-Travel Trail Linkage Design
The 429 Trail marks the introduction of Pivot's mid-travel trail linkage design, specifically for trail bikes. With major influences from the clevis design of the Phoenix DH Carbon and Mach 6 Carbon, the 429 Trail utilizes an entirely new upper linkage to provide the same ultra-precise control and bottomless feel of our longer travel dw-link® designs in a more compact, lighter package for trail applications.
Paired with the new upper linkage design with the same lower linkage design that we utilize on the Mach 6 Carbon, the result is a bike that you can take anywhere and over anything – an incredibly versatile 29er with seemingly endless suspension and noticeably increased traction. The Mach 429 Trail's dw-link® suspension delivers unmatched handling characteristics combined with pedaling efficiency and climbing capability for riders who demand the best performance in both XC and technical terrain.
Fox Factory Suspension
The 429 Trail is spec'd with the new Fox Float DPS (Dual Piston System) shock custom tuned specifically for 429 Trail. DPS stands for Dual Piston System – the shock features two separate sets of valving, similar to what you would find in Fox's external reservoir Float X design but in a much lighter package. The Float DPS shock features new settings and a design that allows for an incredibly plush feel with a wide range of damping control while also offering an extremely positive "firm" position, for those long fire-road climbs. These features are direct complements to Pivot's mid-travel suspension tuning and when combined with the dw-link's® patented position-sensitive anti-squat, gives riders even better traction on steep climbs and over rough trail, making the Mach 429 Trail an up-trail-conquering, climbing machine with a nearly bottomless feel in even the most aggressive terrain.
To match the never ending feel of the Mach 429 Trail's rear suspension, we've paired it with the 130mm Fox 34 for a perfectly balanced ride both on the ups and downs. This fork sets the new bar for trail specific suspension performance.
Boost
To complement these trail-proven angles, you'll find new Boost™ 148 spacing in the rear and 110mm front hub spacing. The extra width between dropouts with the Boost™ system lends itself perfectly to Pivot's drive to produce the stiffest frames with the best energy transfer available. The extra room between hub flanges gives that 29er wheel a ride feel that is as precise as any wheel size with the added advantage of big-wheel rollover capability. In addition to enhanced frame and wheel stiffness, the Boost™ system also enables us to add more tire clearance, allowing for a wider range of condition-specific tire choices, and 27.5"+ compatibility.
Carbon Frame Design
When creating the Mach 429 Trail, the engineers worked to find the perfect combination of purposeful, clean, composite design for strength, large cross sections for stiffness, and the right combination of composite materials to produce a high value frame worthy of the name Pivot. With hollow-core, internal-molding process to bring this vision to reality, riders can now put the Mach 429 Trail at the top of the list when it comes to choosing a one-bike quiver.
For additional information and build kits visit the Pivot Mach 429 Trail web page: Mach 429 Trail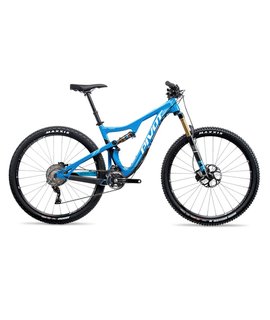 Our goal when designing the Mach 429 Trail was to create a new category of trail bike – one that takes advantage of the best features of 29 and yet maintains the performance characteristics that make you forget about wheelsize and, instead, translate to t
$6,309.00